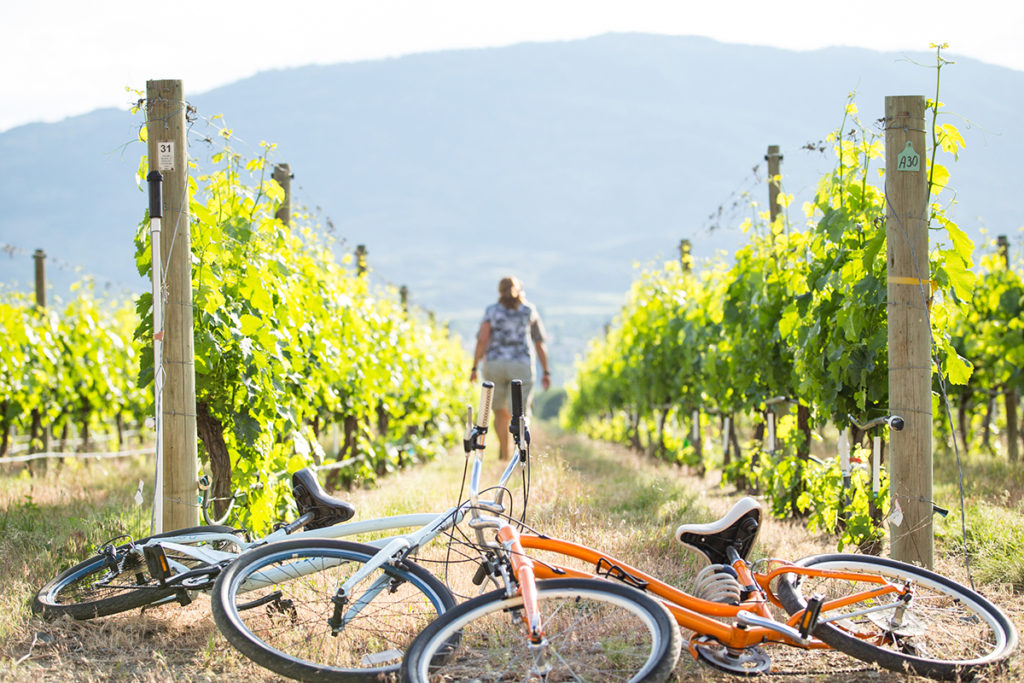 Summer has arrived in Osoyoos, here in the Okanagan Valley, and it's brought with it an array of delicious food, world-class wines, and fun activities in that famously warm Okanagan sun—all of which are waiting to greet you here in Canada's Warmest Welcome!
There's surely no better way to celebrate summer in the Okanagan than with a party, and Osoyoos has one for almost everyone. In fact, the summer season here is jam-packed with unique and unforgettable festivals and events.
Horses and Music
There's the Osoyoos Horse Barrel Races at Desert Park (Fridays at 7 pm, July 8 and 22 and August 5 and 19). This is an exciting high-speed rodeo event that's sure to thrill all members of the family. Unwind at the end of the day with a free concert, lakeside, courtesy of the Music in the Park series held every weekend during the summer season at Gyro Park (Saturday, July 2 and Fridays July 8 to September 2). All shows begin at 6:30 pm.
Star Party
Even nature joins in the celebrations down here, with the Mount Kobau Star Party taking place every night from 9 pm until 5:30 am from August 20 to 28 under a truly breathtaking night sky lit bright by a ceiling of stars.
Farmers' Markets
Quite famously, Osoyoos has the earliest fruit in Canada, which means the summer season is also the harvest season in this agriculturally rich region. Fortunately for visitors, the town likes to share this bounty, and guests can visit the Osoyoos Farmers' Market every Saturday at Town Hall Square from 9 am to 1 pm. Or, if the sun's starting to go down, head on over to Gyro Park and visit the Osoyoos Night Market, just one of the town's newest attractions this year. It's held every Tuesday from 5 pm to 8 pm in the summer.
Vineyards, Wineries, Cideries and Spirits
Amongst the region's agricultural bounty is its internationally renowned wine country. With more than 50 wineries between two celebrated wine regions (Oliver-Osoyoos and the Similkameen Valley), all within a 20-minute drive of Osoyoos, travellers can hit the scenic backroads and tour multiple vineyards during their visit, sampling many different wines and grape varietals.
If you're not in a rush, why not pop open a bottle and settle in for a special event at one of the region's many wineries? Information about big-ticket concerts and outdoor markets at various vineyards as well as the District Wine Village can be found online through the Destination Osoyoos calendar of events.
And if you're looking to cool off with something other than wine, you won't have to venture far. With its abundance of apples, Osoyoos is home to several cideries, such as Orchard Hill Estate Cidery, Bordertown Cider & Winery, and Maverick Cider Co. Spirit aficionados will want to visit Tumbleweed Spirits, whose beer and cocktail lounge is now open for the season, while beer drinkers will want to make sure they stop by North Basin Brewing Co. to wet their whistle.
Farm to Table
With all this warm weather and agricultural bounty, it'll come as no surprise that Osoyoos is also a leading culinary destination in Canada, and home to many farm-to-table restaurants. Renowned chefs use the best of the South Okanagan and Similkameen harvests, as well as produce from their own backyards, to create a diverse and savoury array of international and Indigenous cuisines. And with both pop-up food trucks and winery restaurants now open for the season as well, you might just stumble upon the perfect pairing for that new favourite drink you've just discovered.
Naturally Beautiful
Ultimately, though, it's nature that provides the greatest attraction of all in Osoyoos: the warm weather, sandy beaches and long summer evenings. No trip to Osoyoos is complete without jumping headfirst into Canada's warmest lake for a cooling dip and making the most of lake life with some boating or stand-up paddle boarding.
Once you've dried off, consider hitting the links on any of the town's multiple internationally renowned golf courses. Immerse yourself in nature in Canada's only desert with an Indigenous cultural tour at the Nk'Mip Desert Cultural Centre, or a desert trail walk at the Osoyoos Desert Centre, whose newly renovated Desert Boardwalk Trail is now open!
With its vibrant desert scenery and verdant vineyard vistas, along with its celebrated wine and cuisine, and seemingly endless outdoor adventures to partake in, the summer season is truly one of the most exciting times to be greeted by Canada's Warmest Welcome.
Plan your trip to Osoyoos by visiting destinationosoyoos.com or download the travel guide at appscanada.ca/osoyoos.
Comments
comments