Written by Roslyne Buchanan
Celebrate life and nature's perfection at Summerhill Pyramid Winery while marking your special occasion – whether it's a wedding, birthday, graduation or corporate event. How could we celebrate life with anything other than organic food and wines?
Summerhill recently became the first winery in Canada to achieve B-Corporation Status (B Corp™ Certification) and one of just 26 wineries worldwide. 
CEO Ezra Cipes says, "We're thrilled Summerhill is accredited as a Certified B Corporation. It provides transparency for the way we run our business. Our organic certification provides transparency for the way we farm and make our wine. Our overall impact on our Earth and community is examined from the way we hire and treat our team to every aspect of our supply chain. The B Corp certification confirms we prioritize people and planet alongside profit, and use business as a force for good."
Delicious organic wine and cuisine, great corporate citizenship plus world-class event management from Summerhill's famously hospitable Culinary Team ensures magical moments. An event in the vineyard is a once-in-a-lifetime experience with immersion into nature and lake view extending for 30 kms. Whether your occasion is large or small, the culinary team (for weddings: 250-764-8000 ext. 131 livi@summerhill.bc.ca) will orchestrate and execute a flawless wedding or event every step of the way. In the Best of Kelowna Awards, Summerhill was voted #1 Gold Wedding Venue multiple years in a row.
Corporate Events
Summerhill can accommodate almost any size corporate event, providing unique, organic catering, various venues, in-house wine and drink selections and an all-out imaginative selection of exquisite cuisine. Summerhill offers incentives for event planners with an event to host.
Summerhill is fully equipped for executive keynote speaker events including helicopter, limo and bus access. For corporate events
250-764-8000 ext 113 nicole@summerhill.bc.ca.
Graduations
Given Summerhill's capacity and beautiful location, it's an "unforgettable venue to host your graduation ceremony to commemorate this big step in your life."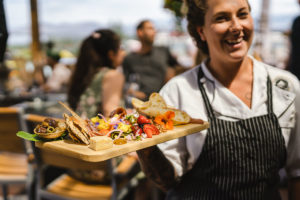 Gala Dinners
For special and elegant gala dinners, Summerhill provides many location choices from The Robert Bateman Gallery to the cellar, for over 500 guests. Choose from plated elegantly served organic delights or sumptuous buffets. 
Book your Christmas Party
Summerhill is the perfect venue for your office, friends and/or family gathering this holiday season. The newly enclosed and heated outdoor dining deck seats 100 with spectacular, year-round views of the city lights and the lake.
"We love being hosts," says proprietor Stephen Cipes. "We want everyone to feel genuinely welcome in our home. I empower our amazing staff to exude that love. That's ideal for what we do — welcoming people from around the world every day from our hearts to our model of man and nature, allowing them to be fellow stewards of the earth." 
Summerhill is proud to be a consistent award winner for its organic wine and food. With a large organic garden managed by permaculturist and biodynamic leader Gabe Cipes, it isn't surprising.  
Breathtaking views are second to none from multiple venues: the Summerhill Pyramid, the Vineyard Ballroom, the Heritage Lawn and the Vineyard Lawn. Mother Nature alters the backdrop seasonally so your event will look spectacular.
Warm Welcome Anytime – Children Too
The entire team at Summerhill is empowered to offer visitors a warm welcome. Drop into the Wine Shop for complimentary tastings, 10 am to 6 pm, daily, year-round. As a family friendly winery, Summerhill welcomes children in the tasting room and on tours. 
Summerhill's organic, house-pressed fruit juices are available for children. Booking a tour is recommended, although walk-ins are happily accepted when space allows.
The Pyramid Experience Tour is a great introduction to Summerhill Winery. It begins overlooking the organic and bio-dynamic vineyard and garden. It includes the famous 45-minute Summerhill Pyramid Experience tour in the precision sacred geometry chamber wine cellar before finishing with a guided tasting of the famous organic wines. See summerhill.bc.ca/Visit-Us.
The free tours are at noon, 2 and 4 pm. Combine them with a fabulous meal at either the 200-seat bistro or the new Small Plates Street Food bistro for under $10 a plate with al fresco dining.
Dining at the Summerhill Organic Bistro is always exciting and special. There are gourmet three-course Meals to Go for $20 per person with internationally influenced menus rotated weekly. (summerhill.bc.ca/sunset-organic-bistro/organic-weekly-take-home-dinners).
Comments
comments